B Bunch manufactures a wide range of equipment for the production of Labels, Tickets, Packaging Void Fill, Tags, Forms, and specialty fanfold paper products.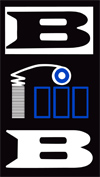 B. Bunch Co., Inc. shipped its first fan folding machine on April 21, 1968. Since then, the product line has expanded to more than 60 different machine types including more than 30 styles of Folders, and several different types of Sheeters, Unwinds, Rewinds, Processors as well as specialized accessory printing equipment. More than 7,500 machines have been supplied to forms and label companies, and specialized printing, paper processing plants, and data centers world- wide.
Generally, B Bunch Co., Inc. does not offer parts, support, or technical service/advice for equipment originally placed in service more than 25 years ago.
Sales, Service, Parts Office Hours
8 AM to 4 PM (USA/Pacific time)
Monday thru Thursday