Bunch Servo Sheeter
for inline or offline operation.
Specifications:
Servo Sheeter with a fixed bed knife and rotary shear
One position for crush slitting with 2 slitter holders and wheels for trim
Cue mark and label gap readers for cut-off registration. Marks or gaps must correspond to cut-off lengths
Shingled Delivery and an Internal counter with a slight Jump for batch identification
Minimum cut size is 3"
Maximum cut size is 17"
Maximum web width  20"
Minimum web width 2"
Maximum suggested speed at 3" is 125 FPM
Maximum suggested speed at 17" is 400 FPM
Overall length is just under 10ft
Width is 48"
Height is 48"
Delivery table height is a approximately 37" from the floor
Cutoff tolerances dependent upon paper types and weights
EWON for Servo Diagnostics and upgrades via Ethernet port
(charges may apply after first year)
Bunch Model 206 Sheeter
for inline use with a geared press.
Specifications:
Variable Size:

Minimum cut off 7″
Maximum cut off 24″

Maximum web width 20″ (26″ wide version also available)
Shear type cut off

Stationary bed knife
Cut off cylinder with two (2) blades spaced to cut off full or half circumferences

Roll away for easy interface with host equipment
Stock: 15 lb. bond to 125 lb. tag
Shingle Delivery
Timing Belt Drive
Speeds in excess of 500 FPM
Cut off tolerance ± .010″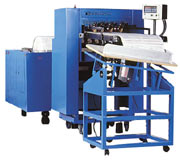 Bunch 206 Geared Sheeter
with tilt jogger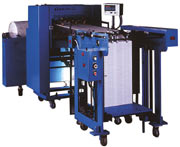 Bunch 206 Geared Sheeter
with high pile delivery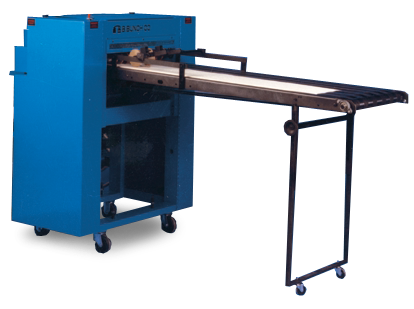 Equipped With:
One (1) change gear
Static eliminator
Optional Equipment:
Tilt jogger (24″ x 20″)
High pile delivery
Stream separator, including slitter position with one (1) slitter holder and wheel
Electronic counter with marking device or motorized delivery table
Change gear for additional circumference
Hookup assembly
De-Curl Bar Assembly
For production of cut sheets for Laser Printers and other cut sheet products.